Wednesday, September 28, 2022

Microsoft Visual Studio Based Applications
Microsoft Visual Studio Based Applications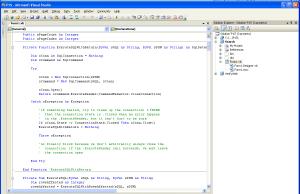 Harness the power of every workstation in your business with a custom Visual Studio application developed by Priority One Solutions.
Utilizing our massive code library of field-tested code, Priority One Solutions can develop a custom application for your business quickly and cost effectively.
Save time and money with a cohesive business application that unifies various departments and functions throughout your organization, eliminating the need for information to be retyped into disjoint subsystems. Eliminate unnecessary data entry fields from off the shelf software that do not apply to your business or business process. Invest in an application that is designed around your business paradigm, not in off the shelf software that forces you to change your operations to comply with the flow of the purchased software.
From basic informational systems to complex business analysis applications, Priority One Solutions is ready to develop a custom Visual Studio application for your business needs. Contact us to discuss your business process and how a custom Visual Studio application can increase your day-to-day productivity.